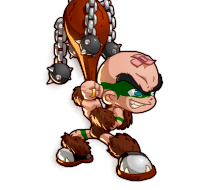 My Brute is a flash-based fighting simulation game. You can play MyBrute by clicking here. The game is simple and takes virtually no time to understand how to play the game. There is virtually no learning curve.
In the world of My Brute, you are the trainer of a human called Brute. You help your Brute to gain experiences by fighting in arenas and by inducting more people (called pupils) into joining MyBrute under your name (you are called master).
There are 4 different types of bonuses you can collect during My Brute. There are 26 different weapons, 28 specialities, and 3 pets for you to collect and explore. You may also create and join clans in the My Brute world.
Fight is entirely automatic. As a trainer, you have nothing to do but watch your Brute to fight against other Brutes. Tournaments are hosted every day. It's a good way to test your brute's abilities by competing with the world strongest Brutes. You may get special ranks depending on how far you can go in the tournaments.
See also
Edit
Ad blocker interference detected!
Wikia is a free-to-use site that makes money from advertising. We have a modified experience for viewers using ad blockers

Wikia is not accessible if you've made further modifications. Remove the custom ad blocker rule(s) and the page will load as expected.